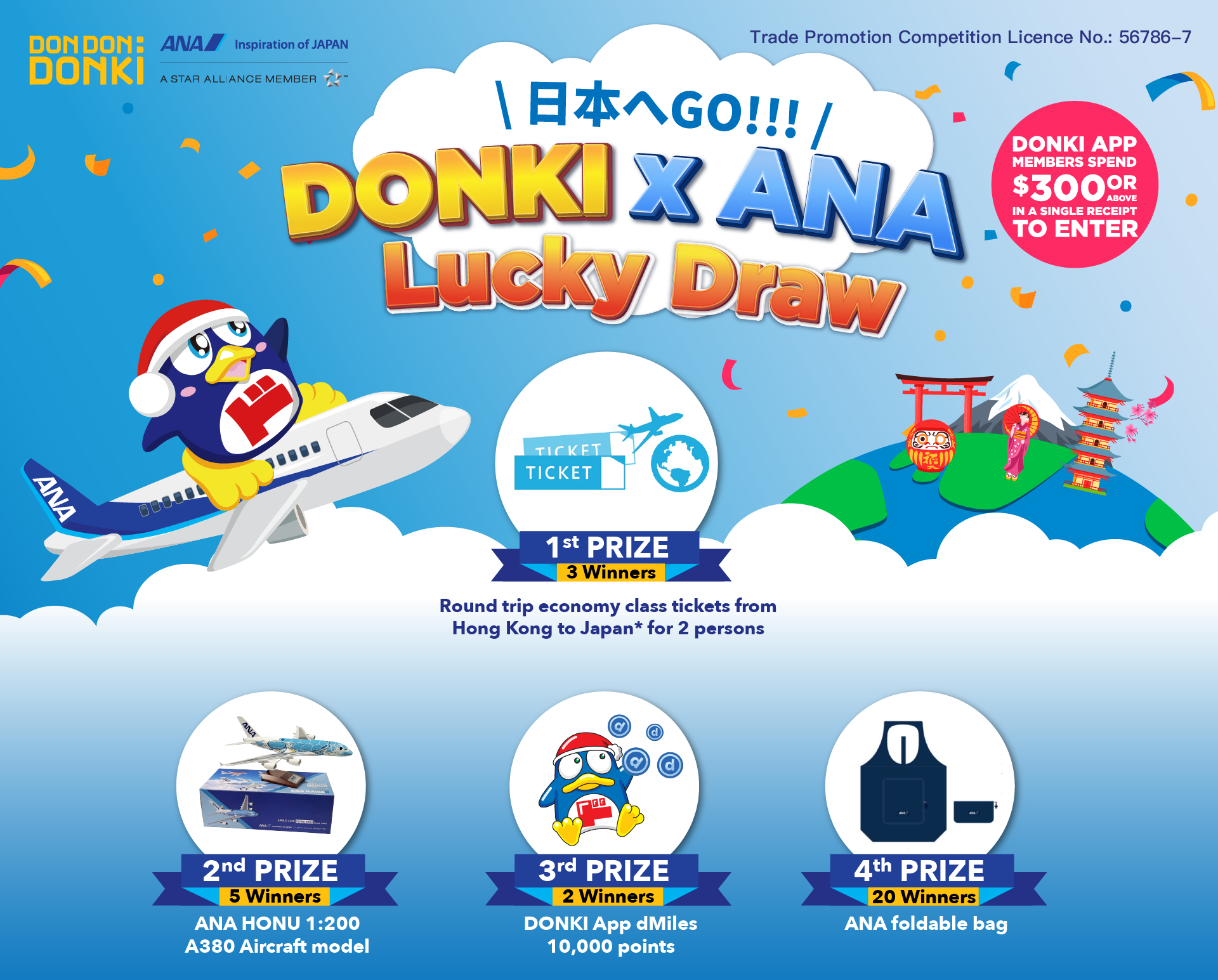 DON DON DONKI joins with ANA to fulfil your dream to Japan~
During March 18 to April 17 2023, DONKI App members spend HK$300 (or above) in a single receipt at any of the 9 DON DON DONKI stores, scan the DONKI App membership number to record the purchase, register your personal information and subscribe to ANA E-newsletters. You can get a lucky draw chance to win ANA tickets for two persons and other fabulous gifts!
​All participants can also receive a 5% discount code for ANA air tickets to prepare for the next trip to Japan hassel free. 日本へGO!!!

Trade Promotion Competition Licence number:56786-7

*Including ANA round trip economy class tickets between Hong Kong and Tokyo (Haneda / Narita).
Winners can choose one Japan domestic city from Tokyo (Haneda) as specified below. Transit flights must be reserved and used together with Hong Kong - Tokyo trip.
List of Japan domestic cities (Flights operated by ANA and/or codeshare flights operated by ANA Wings/Star Flyer/Air Do/Solaseed Air): Sapporo, Wakkanai, Monbetsu, Memambetsu, Nakashibetsu, Kushiro, Obihiro, Asahikawa, Hakodate, Odate Noshiro, Akita, Shonai, Hachijojima, Toyama, Noto, Komatsu, Osaka (Kansai), Osaka (Itami), Osaka (Kobe), Nagoya (Chubu), Tottori, Yonago, Iwami, Okayama, Hiroshima, Ube, Iwakuni, Tokushima, Takamatsu, Kochi, Matsuyama, Fukuoka, Kitakyushu, Oita, Saga, Kumamoto, Nagasaki, Miyazaki, Kagoshima, Okinawa, Miyako, Ishigaki. Japan domestic city list valid as of Februrary, 2023. Flights and schedule are subject to change without prior notice.
Let's register for the lucky draw